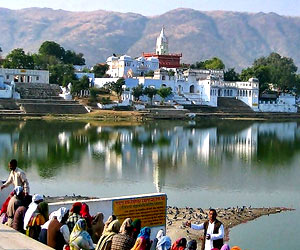 11 km north-west from Ajmer, in the state of Rajasthan, on the desert fringe lies a tiny tranquil town called Pushkar, along the bank of the picturesque Pushkar Lake. One of the holiest and oldest cities of India, Pushkar is a favored destination for thousands of tourists and devotees. As per legends, Pushkar boasts of over 400 temples, ghats and palaces revealing an entirely different picture of the city. An important pilgrimage spot for the Hindus, Pushkar is home to the only temple of Lord Brahma in the country as well as the world. Lord Brahma is known as the creator of the world, as per the Hindu mythology.
Pushkar is situated at a height of 510 meters, surrounded by hillocks on three sides. The 'Nag Pahar', or the Snake Mountain, forms a natural boundary between Ajmer and Pushkar. The sleepy, lakeside settlement of Pushkar is of great mythological significance. According to Hindu mythology, lotus petals incidentally fell from the hands of Lord Brahma on the ground at three places, from where water immediately sprouted, which lead to the creation of three lakes, Pushkar Lake, Madya Pushkar Lake and Kanishta Pushkar. Pushkar is one such place where Lord Brahma performed "Yagna".
Pushkar Camel Festival is the best time to witness the kaleidoscopic picture of this part of Rajasthan. The riot of colors and liveliness is evident from swirling dancers, tented camps, intricate artwork and towering camels. Thousands of Hindus from across the globe come to Pushkar to take a dip in the holy waters of Pushkar Lake. All in all, Pushkar radiates an ambience of peace and spirituality that casts a lure to visit again and again. Visit Pushkar and catch a glimpse of the unrevealed part of this otherwise drowsy and quiet town begetting a legacy of timeless architectural heritage.
Pushkar has an immense hidden potential as a tourist destination
: