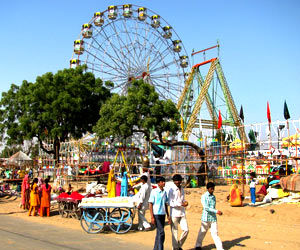 Pushkar can better be defined as a city of lakes, temples, fairs and festivals. Nestled at the peak of desert, surrounded by hills on three sides, Pushkar is a little drowsy town nearby the Ajmer district, in the Indian state of Rajasthan. Although sleepy and tranquil, tourists from all over the world visit this town to catch a glimpse of the rustic yet colorful part of Rajasthan. The sandy sand dunes of Pushkar are home to more than 400 ancient temples, ghats and palaces, the most famous being the Brahma Temple. The only Brahma temple in India, it attracts a number of Indian and foreign tourists alike. Moreover, the Pushkar Camel Festival is simple unbelievable in its unique presentation, traditional artworks and glowing colors.
With such a vast diversity in its own kind, Pushkar ensures that each of its visitors is given the best of the accommodation to make the tour a memorable one. Right from luxury star resorts to budget accommodations, from heritage villas to tented safari camps, Pushkar has it all to suit the needs of every traveler. If you are adventurous and opt to witness the colorful Pushkar Fair from a closer and natural view, choose one of the safari tents, such as Royal Safari Camp, Orchard or Rajasthan Royal Desert Camp, that have been arranged specially for the occasion to offer you a comfortable and luxurious stay.
For those who prefer peace and tranquility, then resorts are your best bet. Pushkar Resort, The Pushkar Bagh, Green Park Resort, J.P. Village Resort and Sajjan Bagh Resort offer you some majestic views of the golden desert landscapes of Pushkar. Experience the royal heritage and past splendor of Rajasthan by planning your stay in one of the most spectacular heritage hotels. Pushkar Palace and WelcomHeritage Gulaab Nawab Palace are your options for the same. Pushkar also offers sufficient 3-star and budget hotels for visitors seeking a convenient stay at affordable rates. Jagat Palace, Hotel Master Paradise, Hotel Oasis, Shyama Resort, Hotel Peacock Resort and Pushkar Villas Resort can be your picks.