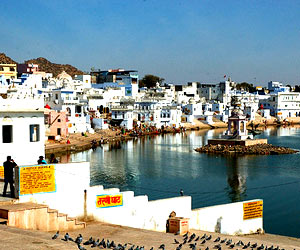 A sacred lake of the Hindus, Pushkar Lake is of the five most sacred pilgrimage destinations for the Hindus in India. It is believed that when the lotus petals fell from the hands of the Hindu God of Creation, Lord Brahma, the Pushkar Lake was created. This tranquil lake is located in the town of Pushkar in Ajmer district of Rajasthan. According to the Hindu scriptures, the sacred lake of Pushkar is described as "Tirtha Raj" or the king of all pilgrimage sites related to a water body. No pilgrimage is said to be complete unless one takes a holy dip here. And if the ritual is performed on Kartik Purnima, it is thought to be equivalent to performing yagnas for several hundred years.
The Hindu scriptures also explicitly states the fact that apart from bathing in the ghat, performing a parikrama or circumambulation of the three lakes, the main Pushkar, Madya Pushkar and Kanistha Pushkar, which cover a distance of 16 kms, on the day of Kartik Poornima would be highly auspicious for the devotees. The Pushkar Lake is semi-circular in shape and about 8-10 meters deep. With 52 bathing ghats and over 400 temples around the lake precincts, this sacred lake is thronged by thousands of devotees visiting this town during the Pushkar Fair, held in the months of October-November.
There are ten important ghats surrounding the Pushkar Lake, which have been declared as "Monuments of National Importance". These ghats are the Varaha Ghat, Dadhich Ghat, Saptarishi Ghat, Gwalior Ghat, Kota Ghat, Gau Ghat, Yag Ghat, Jaipur Ghat, Karni Ghat and Gangaur Ghat. The sacred lake of Pushkar, along with these ghats, has been under the protection of the royal families of Rajasthan. Even the Maratha kings have made a lot of effort in refurbishing them from time to time. While most of the ghats are named after the Kings or Rajas, the others have special importance attached to them.
The Varaha Ghat is named after Lord Vishnu's incarnated form of a boar, while Brahma Ghat is so called because Lord Brahma is believed to have bathed here. The Gau Ghat has been renamed as Gandhi Ghat, after the ashes of Mahatma Gandhi was immersed here. The Nart Singh Ghat located near the Varaha Ghat displays a stuffed crocodile. The water surrounding each ghat is also said to possess special curative powers. While the Naga Kund is thought to bestow fertility, Roop Tirth gives the person taking a dip beauty and charm. Kapil Vyapi Kund is said to cure the person of leprosy, while the one who takes a dip in the Mrikand Muni Kund is ensured of wisdom.